Burned (out) CFL – February 22, 2011
"Installed horizontal for about a year" is the report which came with this photo.
It was removed from a home in Loiusville, KY.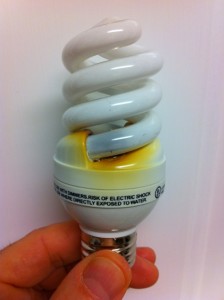 Is that the UL label on the right side, about an inch from the burned area?  Hmmm.
If you find this to be an acceptable failure mode, and if you do not care about the people around you, then go ahead and convert to CFLs.
Better yet, call your Congressman and Congressman Fred Upton, Chair of the Energy and Commerce Committee, at Phone: (202) 225-3761.  He said he'd repeal the incandescent ban.  Perhaps we need to remind Congress of the "WHY".
Please see the EPA "Suggestions" for Cleanup of a Broken CFL, in the "Posts".  Be sure you read the part about throwing away your clothes if they have any particles on them.  And these are harmless little Green Wonders?  Not.